Pacific Smiles Group respects and values the expertise of the dental professionals who choose to operate their practices within our dental centres. At the heart of what we do, it is the dental practitioners whose dedication ensures great patient experiences and oral health outcomes.
The Pacific Smiles Group Dental Advisory Committee (DAC) is a clinical advisory group established to provide recommendations on clinical matters, and to support the safe and ethical delivery of clinical care in Pacific Smiles Group dental centres.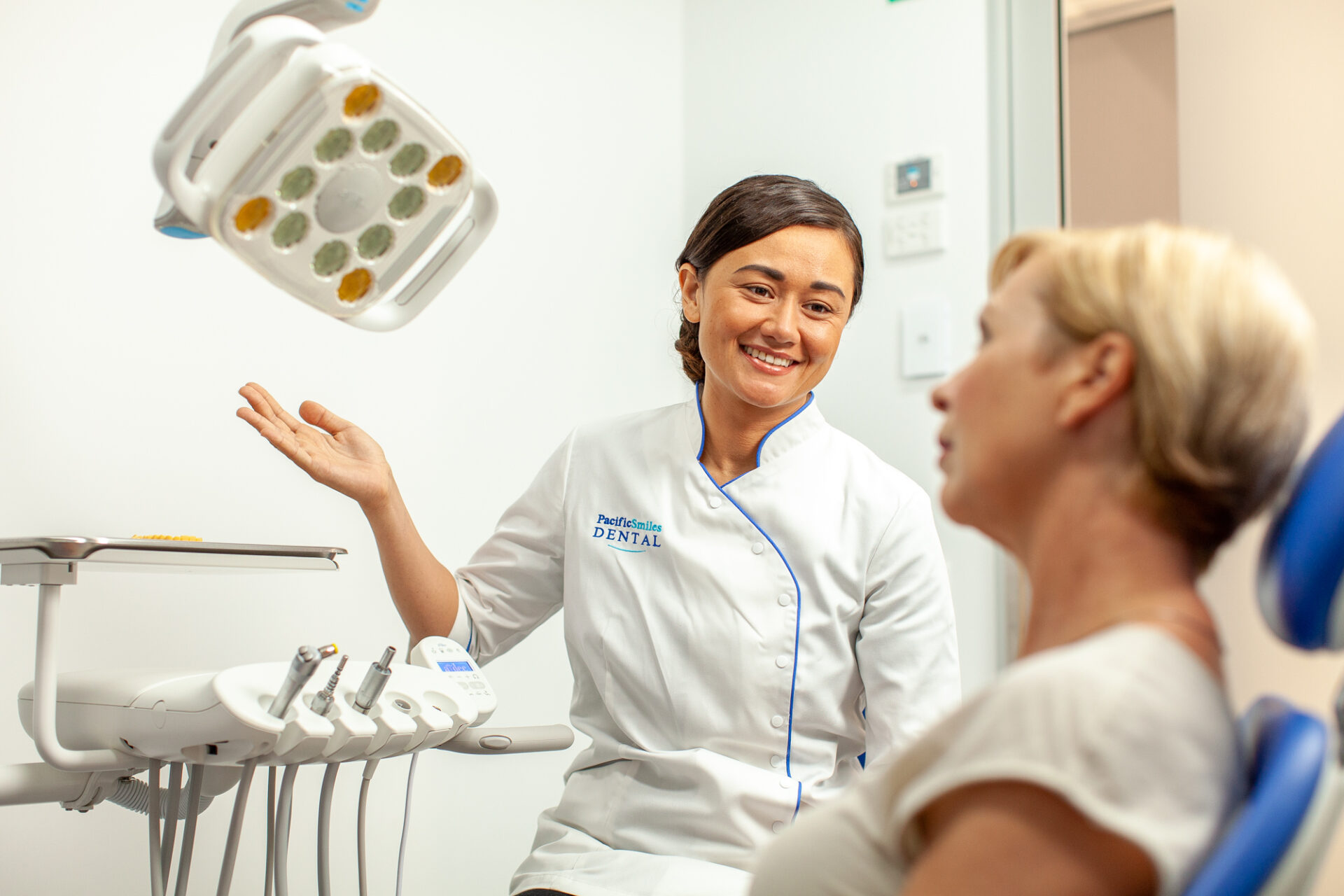 The DAC advises and makes recommendations in relation to:
Matters concerning clinical practice;

Matters concerning the care and safety of patients;

 Policies and procedures for improving patient care;

The ethical and professional conduct of accredited practitioners;

The evaluation of new clinical procedures, equipment and/or materials;

Clinical record standards;

Clinical outcomes and practitioner education programs and events.
Committee members are predominantly dental practitioners, ensuring that any decisions around clinical standards and operations importantly have clinician involvement and feedback.
Dr. Alison Hughes

Clinical Director – Pacific Smiles Group
Co-founder of Pacific Smiles Group, Dr Alison Hughes' background is in dental assisting and clinical dentistry. After attaining Certificate III in Dental Assisting while working as a Dental assistant in Walgett NSW, she went on to study Dentistry at the University of Sydney, graduating BDS in 1992.   
With over 25 years of experience in the dental industry, Dr Hughes brings both practical and theoretical knowledge to her role as Executive Clinical Director, where she provides professional input and support to independent practitioners who base their practices in Pacific Smiles Centres. Dr Hughes is a member of the Pacific Smiles Group Dental Advisory Committee and the Australian Dental Association.  
Dr. Walter Reid
Clinical Director – ACT and Victoria
Chairman - PSG Dental Advisory Committee
Dr Walter Reid graduated from Glasgow University and owned practices in Scotland and North London. He joined Whitecross Dental Care as a Clinical Adviser at the end of 1999 prior to Integrated Dental Holding's (IDH) acquisition of the group in early 2000. Dr Reid was subsequently appointed Director of Dentistry for Whitecross and Clinical Director for IDH. With IDH's acquisition of the Orthoworld group in 2007 Walter was responsible for establishing and developing the Group's Specialist Services Division. He worked closely with the Eastman Dental Institute who provided IDH with an annual calendar of Continuing Professional Development and lectured regularly at the combined Eastman/British Dental Association Careers in Dentistry Conference. Dr Reid also developed the group's induction programme for all clinicians joining IDH and prior to leaving the UK he was responsible for the development and opening of the group's first practice in a Tesco Superstore. Dr Reid, PSG's Clinical Director for VIC/ACT is currently the elected Chairman of Pacific Smiles Groups Dental Advisory Committee. 
Dr. Slainé O'Sullivan
General Dental Practitioner
Member - PSG Dental Advisory Committee
Dr. Slaine O'Sullivan graduated with a degree in Dental Science from Trinity College Dublin in 2005. As a new grad Dr O'Sullivan spent her first year working within a Vocational Training Scheme, followed by three years in Private Practice. During her time working in Ireland she sat on the committee of a regional branch of the Irish Dental Association. In 2009 she made the move to Australia and commenced work in Melbourne in a private practice. Soon after, she commenced practice from nib Dental Centre in Collins Street, Melbourne. Dr O'Sullivan enjoys the everyday interactions with patients and is particularly interested in patient education, communication, prevention and conservative dentistry.  
She loves to learn and regularly updates her skills and dental knowledge. Dr O'Sullivan is an active mentor in the Pacific Smiles Graduate Programme and sits on the Pacific Smiles Group Dental Advisory Committee.  
Dr. Rizvi Mahamud
General Dental Practitioner
Member - PSG Dental Advisory Committee
Dr. Rizvi Mahamud
Sachita Sgraduated with a Bachelor of Dental Surgery from Fiji School of Medicine in 2009 before relocating to Australia to commence practice in 2011. Dr Mahamud has practiced from Pacific Smiles Dental at North Lakes for just over 10 years and maintains a well-established general practice with special interest in Implants, Extractions, Cosmetic and restorative dentistry.  He is a wealth of knowledge and a well-known mentor, supporting our new graduates and his fellow colleagues. Dr Mahamud has been instrumental in the growth and development of the Pacific Smiles Dental North Lakes Centre and is a well-respected and active member of the community as well as highly regarded by his colleagues, team and especially his patients.
Dr. Sachita Shah
General Dental Practitioner
Member - PSG Dental Advisory Committee
Dr Sachita Shah  graduated with Bachelor of Dental Sciences (BDS) from Manipal College of Dental Science, India in 2004. Dr Shah went on to obtain her Masters in Public Health – Health Promotion in 2010 from Leeds Metropolitan University shortly thereafter. Dr Shah continues to pursue further studies and is currently undertaking MRACDS-GDP course from Royal Australian College of Dental Surgeons.
Since graduating, Dr Shah has worked in various private practices and volunteered in multiple overseas facilities including a public hospital before migrating to Australia in 2012. Dr Shah completed her Australian Dental Council exams in 2011 and was one of the first dentists to join HBF Dental when they opened in Western Australia in 2021. Dr Shah enjoys continued learning to advance her knowledge in dentistry so that she can provide the best possible care to patients.
Dr. Navroop Singh
General Dental Practitioner
Member - PSG Dental Advisory Committee
Dr Navroop Singh Thiara graduated with a Bachelor of Dental Sciences, SGRD Institute of Dental Sciences & Research, Punjab India 2005. Dr Singh completed an internship with the same Institute between July 2005 – July 2006 before emigrating to Australia, where he completed the OTC Bridging Course in Victoria and successfully passing the ADC exam in 2009. Dr Singh has practised in both public and private facilities and commenced practice with Pacific Smiles Group dental centres in December 2010, initially practising from nib dental care Glendale, Newcastle and Pacific Smiles Dental Greenhills in the Hunter region. Dr Singh eventually relocated to Pacific Smiles Dental Penrith where he continues to practice today. During his time with Pacific Smiles Group, Dr Singh has held both Lead Practitioner and Senior Clinician roles and has been instrumental in the growth and development of the Penrith centre. Dr Singh has a genuine love for continuing education and enjoys sharing his knowledge and discussing treatment planning with others. Dr Singh has provided mentoring to many other practitioners during his time with Pacific Smiles Group. Dr Singh has a keen interest in all aspects of dentistry, but in particular enjoys implants and complex restorative care. Dr Singh has been an active member of past PSG Advisory Committees, and is currently completing his Masters in Health Law.
Dr. Rob Regan
General Dental Practitioner
Member - PSG Dental Advisory Committee
Dr Robert Regan obtained his BDS in 1997 from the University of Bristol. He commenced practicing in the coastal town of Hastings (UK) before moving to Wiltshire in 2000 where he practiced in a group practice consisting of 3 dental centres, serving both private and NHS patients. After 12 years Dr Regan became a partner in the group practice and opened an additional 4 chair practice, winning a larger contract with NHS. After selling the practice to Integrated Dental Holdings, Dr Regan and his family emigrated to Australia where he began practicing from Pacific Smiles Dental Belmont from opening day in 2012. Dr Regan then split his practice between Pacific Smiles Dental Belmont and Pacific Smiles Dental Kotara, before moving his practice completely to Pacific Smiles Dental Kotara to be closer to the family home. Dr Regan now practices full time in Kotara and has been a major influence on the growth of the Kotara centre. Dr Regan has almost 20 years of experience and has a broad knowledge of dentistry and the dental industry being both an owner and operator of dental centres. Dr Regan has a broad scope of dentistry with special interests in implants and invisalign.