Pacific Smiles Group respects and values the expertise of the dental professionals who choose to operate their practices within our dental centres. At the heart of what we do, it is the dental practitioners whose dedication ensures great patient experiences and oral health outcomes.
The Pacific Smiles Group Dental Advisory Committee (DAC) is a clinical advisory group established to provide recommendations on clinical matters, and to support the safe and ethical delivery of clinical care in Pacific Smiles Group dental centres.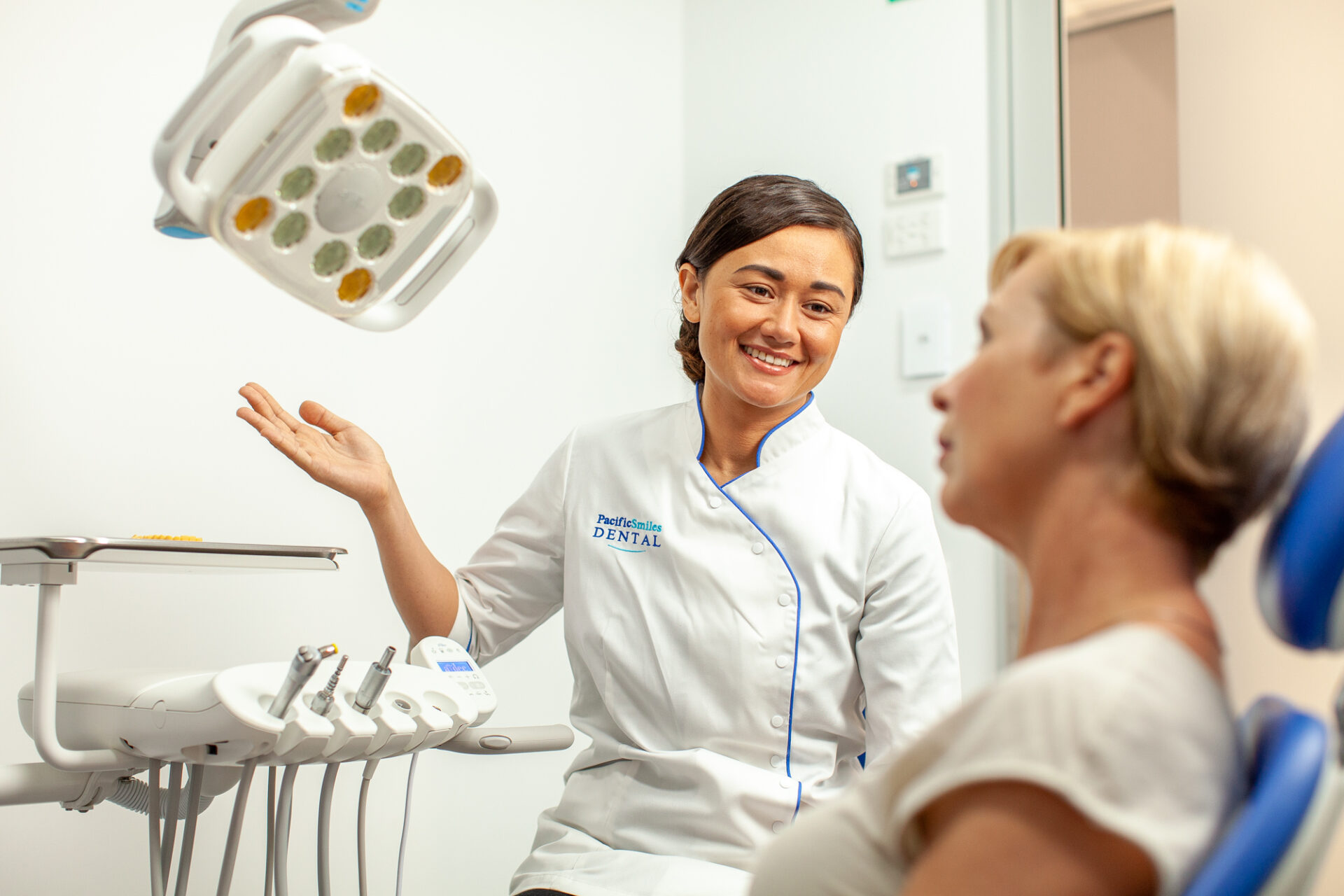 The DAC advises and makes recommendations in relation to:
Matters concerning clinical practice;
Matters concerning the care and safety of patients;
Policies and procedures for improving patient care;
The ethical and professional conduct of accredited practitioners;
The evaluation of new clinical procedures, equipment and/or materials;
Clinical record standards;
Clinical outcomes and practitioner education programs and events.
Committee members are predominantly dental practitioners, ensuring that any decisions around clinical standards and operations importantly have clinician involvement and feedback.
Paul Robertson
Interim Chief Executive Officer
Pacific Smiles Group
Mr Robertson is an experienced Chief Executive Officer and senior executive. He joined Pacific Smiles Group in 2008 as Chief Operating Officer where he spent 13 years building a deep understanding of the Company's operations. In July 2022, he was appointed Chief Commercial Officer, enabling him to leverage his knowledge of the business and build on established relationships.
As a CEO Mr Robertson has extensive experience having led a number of private hospitals for major operators including Affinity Health, Healthe Care, and Little Company of Mary Healthcare.
Dr. Troy McGowan
Executive General Manager – Clinical Excellence
Pacific Smiles Group
Dr. Troy McGowan is an Australian-trained periodontist with more than a decade of experience in clinical dentistry and health leadership.
Troy spent 13 years in the RAAF.  He held the position of senior dental officer, and specialist career advisor and was given command of the RAAF field hospital on exercise and managed the multidisciplinary health centre at an operational air base for two years during the global COVID-19 pandemic.
As well as his time in the ADF Troy has worked in the public sector both as a dentist and periodontist and has spent the last year and a half in private specialist practice. He holds honorary academic positions with both the University of Queensland and Central Queensland University and has published several articles in peer-reviewed dental journals.
Dr. Jan Ledvinka

Specialist Orthodontist
Dr Jan Ledvinka was born and raised in Scotland. Jan qualified from the University of Glasgow in 1996 and then completed his orthodontic training in England.
After working within the hospital NHS system, Jan moved to Sydney with his young family in 2007. Jan has been working in Sydney CBD, Parramatta and regionally in Wagga Wagga as a Specialist Orthodontist since that move.
Jan has enjoyed building relationships with patients' families and colleagues over the years. Outside of work Jan enjoys photography, music, tennis and swimming at our beautiful beaches, which he finds much nicer than the North Sea!
As a member of the DAC, Jan hopes to be able to facilitate communication between clinicians and senior management with a view to improved services for clinicians and patients.
Dr. Sachita Shah

General Dental Practitioner (HBF Dental)
Dr Sachita Shah graduated with a Bachelor of Dental Sciences (BDS) from Manipal College of Dental Science, India in 2004. Sachita went on to obtain a Masters in Public Health – Health Promotion in 2010 from Leeds Metropolitan University and is currently undertaking MRACDS-GDP course from the Royal Australian College of Dental Surgeons.
Since graduating, Sachita has worked in various private practices and volunteered in camps and a public hospital before migrating to Australia. Sachita passed her Australian Dental Council exams in 2011.
Sachita was one of the first dentists to join HBF Dental when it opened its first dental centre in Western Australia. Sachita loves to learn and gain knowledge in dentistry to provide the best care to her patients.
Dr. Anna Starostina

General Dental Practitioner
Dr Anna Starostina is a friendly and dedicated General Dentist based in Sydney. Anna completed her dental education as MDS in Kyiv, Ukraine in 2011. Working in the Government Dental Hospital then in the Dental Hospital of the Ministry of Defence.
In 2018, Anna moved to Australia and continued her dental education in Australia. During her study, she worked as a Dental Assistant within Pacific Smiles Group.
In 2021 Dr Anna completed the Australian Dental Council assessment achieving the highest results and became fully registered Dental Practitioner in Australia. Anna currently practices as a General Dentist at Pacific Smiles Dental Chullora and nib Dental Care North Parramatta NSW.
Anna dreamed of becoming a dentist since the age of 5 and has a great love of the profession which shows through the dental care that she provides to her patients.
Anna maintains the highest level of accreditation and takes advantage of ongoing education in general dentistry as well as keeping up to date with current developments in the industry.
Mr. Joshua Heit

Prosthetist
Joshua is dedicated to providing a high standard of patient care, priding himself on his attention to detail and listening to the unique needs of each and every patient in order to identify the perfect solution for them.
Growing up and attending school in Brisbane, Joshua went on to complete his Bachelor of Oral Health in Dental Technology, followed by his Masters of Oral Health in Dental Prosthetics at Griffith University, Gold Coast, where he was awarded the Apex Dental Prosthetic Excellence Prize for receiving the highest GPA for clinical practice. Joshua has also been a clinical supervisor for the Dental Prosthetics program at Griffith University.
Joshua has extensive experience as a Dental Prosthetist working across a number of clinics in NSW and QLD, currently practicing from PSD Greenhills and nib Dental Glendale and Sydney.
Joshua is committed to ongoing education to stay up to date with the latest denture technologies to continue delivering optimal patient outcomes. Outside of the dental clinic, Joshua enjoys playing golf, seeing friends and family, and trying new restaurants.
Miss. Lauren MacPherson

Oral Health Therapist
Lauren MacPherson graduated from The University of Newcastle, with a degree in a Bachelor of Oral Health Therapy, including the extended Adult Scope. With 8 years of dental assisting experience, Lauren's passion for dental grew and she wanted to further her career in the dental field.
Lauren provides a great focus in managing patients within the dental clinic and reducing dental anxiety. She also specialises in working with paediatric patients, and patients with periodontal diseases and offers treatment in restorative therapy.
Lauren currently practices from nib Glendale and PSD Raymond Terrace. When Lauren is not in practice she loves to travel to new destinations, socialise with her close friends/family and loves to enjoy new dining experiences.
Dr. Ben Chuang

General Dental Practitioner
Dr Ben Chuang graduated with a Bachelor of Pharmacy from the University of Sydney in 2007 before furthering his studies in Dentistry at the same University. He graduated with a Bachelor of Dentistry (Honours) in 2012.
Ben has a unique combination of commercial and clinical background. His passion for innovation has led him to his previous role as the Chief Dental Director for a healthcare private equity group, overseeing the growth and expansion of the dental sector. Ben also founded a school dental program as a social enterprise to give back to the community, this program featured in a publication of the ADA magazine.
Ben is a great advocate for clinical excellence and loves helping dentists become the best versions of themselves. He has a particular passion for dental sleep medicine where he has acted as a consulting dentist for ResMed and is currently completing his university diploma in the field. Ben also has a special interest in orthodontics and has recently completed his training with the International Academy of Advanced Dentistry.
Ben currently practices from Pacific Smiles Dental Rutherford, NSW. As a member of the Dental Advisory Committee, he looks forward to being an advocate for positive change for Pacific Smiles Group.
Dr. Andrew Louey

General Dental Practitioner
Dr Andrew Louey graduated with a Bachelor of Dental Surgery from James Cook University Qld in 2015 and joined Pacific Smiles Group in 2019, currently practicing from PSD Mitchelton in Qld when it first opened.
Andrew is passionate about ethical dentistry and prioritises his patients in all aspects of their care and management as he aims to provide every patient with an enjoyable and thoroughly positive experience at every single one of their appointments.
Andrew has been a mentor to newly graduated dental practitioners including OHT's and has been a mentor for the last 3 years in Pacific Smiles Group's Insight Graduate Program.
Andrew has held positions in private practice in Central Queensland, with Thursday Island Primary Health Centre (Qld Health) and participated in the One-2-One Cambodia Dental Program providing dental care to remote provinces.
Andrew provides comprehensive general dentistry, and he looks forward to contributing to the Dental Advisory Committee over the next 3 years.
Dr. Mohammed Al Saeed

General Dental Practitioner
Having completed his Bachelor of Dental Surgery in 2004, Dr Mohammed went on to complete his Post graduate Diploma in Orthodontics and Dentofacial Orthopedics at the City of London Dental School.
Dr Mohammed has been working in an orthodontics specialised centre in Melbourne since 2021 and uses removable, fixed, and myofunctional appliances combined with braces or clear aligners to create healthy and beautiful smiles. Dr Mohammed has a very thorough understanding of airway problems and its impact on children's facial growth, development, behaviour, and learning at school.
In addition, Dr Mohammed has completed many courses in various aspects of General Dentistry, especially Oral Surgery and Implantology at the University of Melbourne. Mohammed joined Pacific Smiles Group in 2016 and currently practices from PSD Waurn Ponds and Drysdale.
Dr Mohammed has worked as a clinical instructor at the School of Dentistry in Latrobe University, VIC and as a lecturer in One Dental Academy for preparing dentists sitting the Australian Dental Council examination. Outside of dentistry, Dr Mohammed enjoys playing Tennis and Basketball with his family and friends.
Dr. Catherine Alapat

General Dental Practitioner
Dr Catherine Alapat is a general dentist and has been practicing from Pacific Smiles Warragul in Victoria since 2007.
Catherine completed her Dental degree from the University of Mangalore, India and Postgraduate Diploma in Clinical Dentistry from the University of Stellenbosch, South Africa.
Catherine enjoys general dentistry and strives to make a difference in the delivery of services to her patients. She is dedicated to building a supportive workplace culture for her colleagues and is currently a mentor to new graduates.
Catherine looks forward to extending this commitment by serving in the DAC and hopes to make a positive impact during her tenure.
Next: Dental practitioner opportunities